Washroom Concepts 30-Day Metered Air Fresheners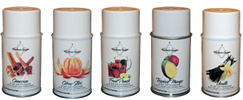 Washroom Concepts premium metered air fresheners contain odor counteractants to eliminate offensive odors.
For use in all full-size automatic metered dispensers.
Five classic fragrances to choose from that last longer than competitive fragrances on the market today.
Refills last a full 30 days.
Low VOC formulas comply with the current California, U.S. and Canadian regulations.