Air Fresheners & More
Details
Continuous Cleaning and Drain Maintenance System for Toilets and Urinals

AutoClean Systems ensure that toilets and urinals are always clean, odor-free and presentable.  Equipped with either Purinel for clean fixtures and maintained drains, or Cleaner and Deodorizers for hygienic fixtures with a pleasant scent, AutoClean Systems deliver powerful formulas that attack and eliminate odors at the source - automatically cleaning fixture surfaces, day and night Enhances Cleanliness and Image Round-the-Clock
Dramatically improves the overall cleanliness and image of any washroom
Powerful formulas eliminate the breeding ground of bacteria and odors at the source
Easy In-Line Installation
Allows cleaning solution to reach the hard to clean areas, such as rim holes, ensuring that the whole fixture is clean
No need to shut off the water
Easy drill-through chrome connection kit
World-Class Reliability
Proven programmable dispensing technology
Delivers consistent metered dosage of Purinel to prevent build up of calcium on pipes and scaling
Environmentally Efficient and Cost Effective
Controlled dispensing eliminates over use and places less chemicals into the waste streams.
Industry leading battery life up to 3 years (2 "D" Cell alkaline batteries, not included)

NOTE: Urinals typically have 3/4" or 1-1/4" pipe sizes while toilets typically have a 1-1/2" pipe size.  Connection Kits and 12-1/2" Connection Tube are sold separately.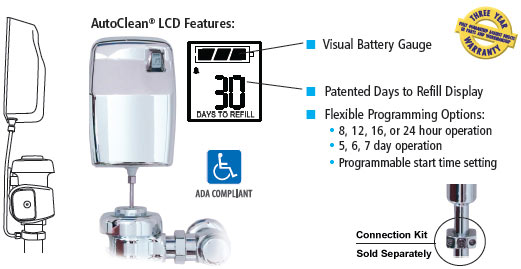 Additional Information
| | |
| --- | --- |
| SKU | RUBBI:1793504 |
| Dimensional Weight | 2.2500 |
| Manufacturer | Technical Concepts |