Air Fresheners & More
TC Gel The TC Gel System is fully automatic and uses high performance gel refills to provide effective odor control for a full 30 days in a simple, easy to use dispenser. TC Gels contain Microtrans® Odor Neutralizer to lock onto malodor molecules transforming them into a neutral base that eliminates unavoidable odors in the washroom. Carefully selected fragrances covering all customer preference zones help to enhance the washroom experience of patrons.

Longer Lasting Odor Control
The unique gel formula provides a pleasant fragrance while controlling odors for a full 30 days.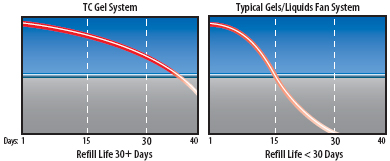 Excellent Low Cost Solution
The TC Gel System is a great low cost way to control odors with affordable dispensers and refills. The TC Gel Dispenser's Load n' Go operation also makes the TC Gel System a maintenance free solution producing effective odor control without high expenses.

Environmentally Responsible
TC Gels are biodegradable and the plastic refill cups are now recyclable, making an environmentally friendly system.

User-Friendly System
This simple dispensing system is available with a wide array of fragrance options covering all customer preferences and enhancing patrons washroom experience.